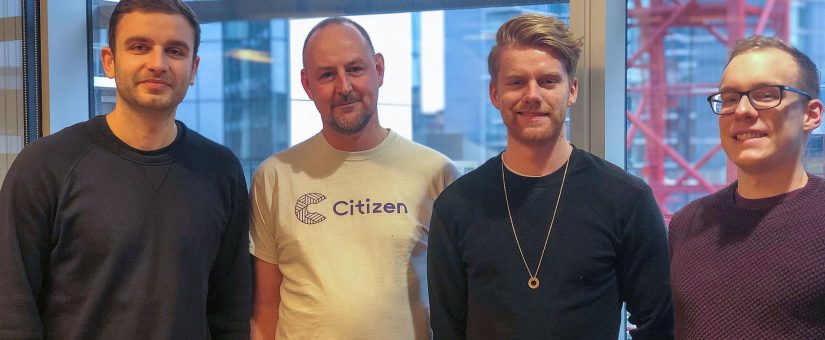 Posted by Metavallon VC Team
On January 28, 2019
We are excited to support ambitious UK-based biometric authentication business Citizen. Our investment forms part of Citizen's seed round of €800K joined by Angels and existing investors from the payment & investment banking sectors.

Citizen is an Identity as a Service company that enables businesses to securely authenticate, communicate and transact with their customers, without the friction of passwords.
Citizen was founded in 2015 by CEO James Neville, who has worked in senior leadership roles across e-commerce, payments and gaming, notably as CTO at Worldpay and Sportingbet.
In 2017 the Citizen team participated in the London-based Barclays Accelerator, supported by TechStars, where they were recognised as one of London's leading Fintech businesses. Citizen is now working with European Regulators to act as an Authorised Payment Institute under the Payment Service Directive 2 (PSD2), in order to support bank bonded identification and push payments.
The funding will be used for market development and to grow the team. Citizen will also be establishing a technical team in Greece under the leadership of Vangelis Stamatoukos, an experienced Greek business advisor. Here they are the current job vacancies: Backend Engineer, QA and Senior Front-end Engineer.
" The aging paradigm of username with password is a broken concept. 40% of people regularly forget their passwords and 81% of people admit to lying online about their personal information. Personal data loss is at an all time high, and the age of Facebook's surveillance capitalism is coming to a close. What sets Citizen apart is our innovation in biometric authentication and cryptography. Most consumers and employees around the world are already comfortable using biometric authentication platforms; combining device held biometrics with strong cryptography is a cleaner, more secure replacement for passwords. Citizen will continue to service its core markets throughout 2019, enabling businesses to safely authenticate, communicate and transact with their customers, without the friction of passwords. Using Citizen, businesses will be able to process PSD2 account-to-account payments, significantly reducing existing fees whilst also reducing their fraud and chargeback levels. We're excited to be partnering with Metavallon VC as we jointly accelerate our market development activities. Their access to the European banking system makes this investment a natural fit for both of us" explains CEO and Founder of Citizen James Neville.
"We believe that Citizen is going to change the data security landscape. The biometrics revolution is well underway. E-commerce lost nearly $7 billion to chargebacks in 2017 and 96% of people are concerned about data privacy and how companies use their data. It's clear that biometrics are the future of online security and fraud defence. Citizen's platform provides strong fraud prevention and aligns with the most recent international developments in information privacy standards. Citizen's target markets align closely to Metavallon VC, who bring connections to an extensive European banking network as well as the Greek banking system. We will leverage this network to assist in winning early adoption, helping build credibility and creating successful case studies. With these in hand they will be able to target tier 1 banks in Europe and USA in no less than a year from now ", says George Karantonis, Partner at Metavallon VC.