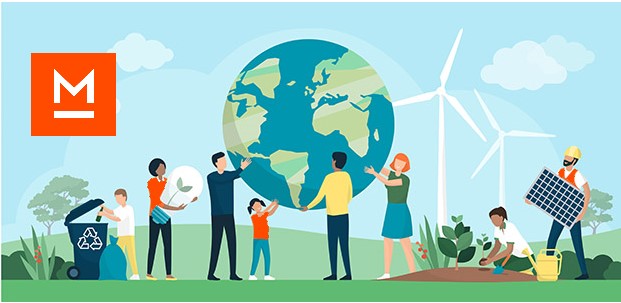 Posted by Marilena Kakkou
On January 17, 2022
With the world's climate continuing down a troubling path and the climate crisis already at their front door, governments, private investors, consumers and even vendor partners increasingly care about the concept of sustainability. Simply put in the economy, sustainability is a business approach to creating long-term value by taking into consideration how a company operates in the ecological, social and economic environment.
In business, 2022 will bring a renewed focus on the environmental, social, and governance impacts. Τhis means a focus around climate sustainability: considering new business models, reducing their carbon emissions, making real changes in their supply chain, caring about where their products are created and the impact they have on the world. But it doesn't stop with companies or consumers. This trend is taking root for employees as well, with younger generations wanting their employer's values to match their own and also generation Z seems to be purpose driven.
Sustainability and VCs
In the last 4-5 years more and more our sector is asked about alternatives to traditional investment approaches, wanting to both make money, but make a difference – with investments made in line with people's values. "Sustainable" investing is a values-based investment approach that assesses the potential of a particular investment, taking into account not only the traditional risk/return analysis but also the values of the investor. It has also gained new momentum in the midst of a pandemic that has brought forth a host of difficult economic and social issues. Besides that, 2021 has been variously described as "a watershed moment for ESG" and "the year of ESG investing" (ESG (Environmental, Social, Governance) is a type of investing which concentrates on its environment and social impact.). We do not expect this interest to go down and we see this growth trend to continue throughout 2022.
Why startups should care about sustainability
Startups can not ignore this global trend. Founders and their teams should start looking to join this sustainable revolution (or even better, lead it) and treat it as an opportunity. In order to get on course achieving net-zero emissions by 2050, we need to reimagine businesses. Startups are disruptive by nature and have the unique advantage of building their businesses from scratch, not trying to change or reinvent them. But there are other important reasons, as well:
-It attracts new funding
Venture capital funds and their limited partners increasingly will demand that their assets be responsible. The green finance market will continue to grow at a high rate, which will push more investment into areas such as renewable energy, waste management, biodiversity and carbon reduction. In 2020, sustainable investment assets grew to $35.3 trillion globally.
-It reduces risk
Startups by using ESG criteria vastly decreases unnecessary risks. The extra filter assesses companies according to their corporate governance, working practices, environmental risks and social impact.
-It lowers costs
Using production methods that cut waste and encourage reuse results in lower production costs. Being environmentally and financially conscious are two sides of the same coin.
-It helps when recruiting and retaining employees
A more meaningful startup has a greater ability to attract and retain employees. In fact, meaningfulness, defined as the feeling that one's job contributes to society as a whole, was identified as one of the most important employee engagement driver.
COP 26, Net Zero Goal and Better Origin
"Climate sustainability" in the business sector came more than ever to the forefront in last year's climate conference in Glasgow. The United Nations, COP26, has grabbed global attention as our collective "last best chance" to curb the direct consequences of climate change. This year's conference aim was to reach a consensus on actions to keep global warming to 1.5 degrees Celsius (2.7 degrees Fahrenheit) above preindustrial levels and to secure net-zero emissions by 2050. Governments and businesses put forth more grand pledges and ambitious plans to decarbonise, while more financial institutions committee to net zero future and investing firms could hear the message loudly.
At Metavallon VC, we have proudly incorporated in our portfolio an amazing agritech team, Better Origin, that democratises insect farming by helping farmers grow insects locally/sustainably and helping them reach Net Zero.
The team's vision is for their insect farm to be a tool that helps food companies and farmers clean up their supply chain. They take inspiration from nature, where insects convert food waste into nutritious protein and are installing insect farming containers onsite farms, mitigating emissions right where they happen. By tackling food waste and producing sustainable feed, the X1 can save up to 565 tonnes of CO₂ emissions per year. And, with production-related emissions of up to 13 tonnes, they're proud to call the unit carbon-negative.
Conclusion
As world leaders negotiate plans to embrace sustainability and reduce greenhouse gas emissions globally, digital transformation strategies have gained renewed attention as a way to step up rapid, effective climate mitigation and adaptation. New technology will be at the forefront of cutting emissions and there are hundreds of startups across the world rising to the challenge. Not only startups like Better Origin (as tackling the climate crisis directly is part of its core business), but also startups in general, should consider ways of including sustainability, as part of their mission. It looks like it's time for them to remind their teams of what the company stands for, keep the business on the right track, communicate to clients how they'll make an impact in a positive manner and lead a transformation to a more sustainable society.