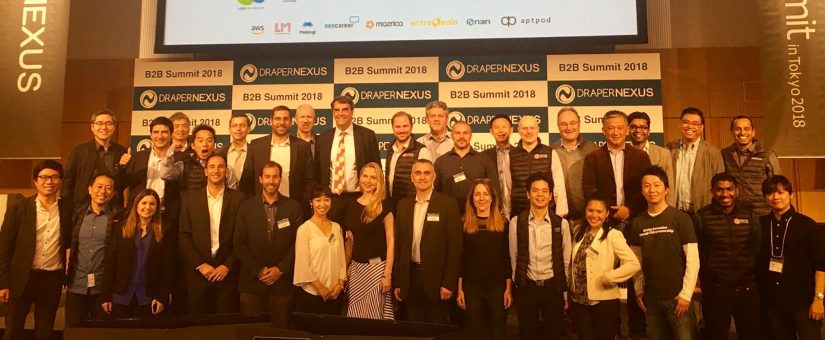 Posted by Metavallon VC Team
On April 26, 2018
This year the annual General Partners (GP) Spring Forum organized by the notable Draper Venture Network took place at Tokyo, Japan. As a proud DVN member, Metavallon VC participated with two of our Partners, Yorgos and Alexandra, who joined over 40 other leading investors from global VC funds of the Network to exchange insights and immerse themselves in the fast-growing Japanese and Asian market.The three-day program included workshops, group discussions, startup pitches, the exclusive Draper Nexus B2B Summit and several immersive and Japanese cultural activities. A remarkable experience among the leading global venture community came about in the country of zen, samurais and ninjas, robots and manga!  
Three Days of Investment Intelligence and Cutting-edge Startups
The GP Spring Forum 2018 schedule was an experiential, inclusive and rather demanding one, all packed in three days of activities.
Day I: With the onset of the first day of the Forum, our Partners joined investors from DVN's global community to present their respective work, participate in best practice workshops organized by members of the Network, and share insights and ideas on portfolio building, startup development, and corporate acquisition exits. These mind-shifting sessions were followed by a unique tour within the Japanese startup ecosystem. The DVN group visited the headquarters of remarkable companies such as Sansan, Groove-X and Shift, where they were greeted by courteous, talented teams and followed presentations by the companies' extraordinary founders. Different and at the same time very similar to entrepreneurs across the globe, these founders exhibited the deeply rooted humbless of the Japanese culture along with the boldness and discipline that distinguishes all high-achieving startup founders anywhere around the world.
Day II: The second day marked the Forum's zenith, with the Draper Nexus B2B Summit at the core of the planned activities. This annual gathering brought together entrepreneurs, corporate executives and leading VCs from the B2B world to present the latest developments and share insights on the B2B market. A happening on its own, it was a joint effort of Draper Nexus, a leading early-stage B2B-focused venture capital firm in Silicon Valley and Japan, and Nikkei Business Publications. During the Summit, we had the opportunity to witness a diverse set of sessions and group of professionals, from Fortune 500 thought leaders to ground-creating founders working within industries such as Space, Enterprise, SaaS, Fintech and Hardware. Central to the event was also the keynote of and ensuing discussion with the legendary investor Tim Draper.
Day III: With the Forum coming to its close, this day was dedicated to meetings between individual member VC funds to discuss collaboration opportunities as well as to local activities, such as a tour to and meditation session in a traditional Zen Monastery in Yokoyama. Our host monk shared a quote that we still hold dear and feel applies to startup founders and professionals just the same: "When you do something, you should do it with your whole body and mind; you should be concentrated on what you do. You should do it completely, like a good bonfire. You should not be a smoky fire. You should burn yourself completely." We recognize all ingredients of high-achievers within these lines: discipline, tenacity, focus, and commitment. Moving beyond traditional business, this was an opportunity for all visiting investors to deepen within the magnificent Japanese culture and explore the country's distinctive way of living.
Top Insights as Quoted by DVN Investors and Leading Startup Founders
More than the one-of-a-kind experience, the GP Spring Forum 2018 was a powerful source of concepts and insights from the DVN investors, the corporates, and the portfolio startups that participated. So here is a list of our top six most favorite of those, as food for thought for first-time founders and for experience entrepreneurs alike.
#1: Speed is most important. And startups don't know it.
#2: Not sharing an idea is how an idea dies. The best founders are open to share their ideas – and they get much more in return.
#3: This world is much bigger than what we can fathom. If you are a market winner crossing borders, you will grow much more than you expect.
#4: In a startup, you may be wrong, but it is not a mistake.
#5: Every industry has incumbents. And if you can replace one of those incumbents, then you can re-create this industry on your own terms.
#6: Entrepreneurs are constantly improving what you see around you. They take big risks; long odds for extraordinary outcomes. And if they strive for those extraordinary outcomes, we should honor them. And the way to honor them is to encourage them and allow them to fail.
The GP Spring Forum in Tokyo was just the first from a series of events and news to arise from and in collaboration with our partners at the Draper Venture Network. Stay tuned for more on the upcoming activities of our team at Metavallon VC and our work with DVN and corporations internationally!