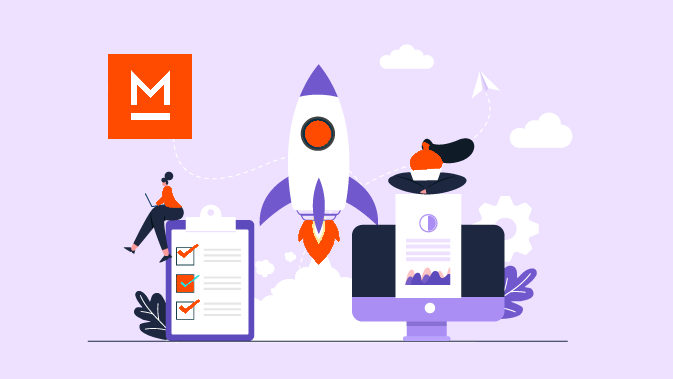 Posted by Myrto Papathanou & Marilena Kakkou
On June 7, 2021
Employee engagement is an essential part of every organization. For technology companies with no raw materials, little or no hardware and no tangible assets, people become by far the biggest asset and the success, scalability and expansion of the company relies on attracting and retaining top talent.
Large companies have a budget and the HR tools to raise motivation and involvement. But what if you don't have all those resources? What if you happen to be a tech startup entrepreneur managing a (for the time being) small team? Below, we will take a closer look at why employee engagement matters, how to start a structured process of addressing it in your company and bring forward easy to implement tips to create more involvement among employees in a small team. For the purposes of this post, we define a small team as having less than 50 people, i.e. at a typical Seed/ Series A stage.
Benefits of adopting employee engagement
1.Increases employee loyalty
Increased loyalty ensures that even as your startup expands over time, you'll always have some employees who have been with you from the beginning. It benefits your company by decreasing churn and the cost (both money and time) of having to train and rehire employees all over again. Also, there is a smooth and natural flow of the company when new employee additions come in and a perpetuation of the culture you have created.
2.Improves productivity
An engaged employee works harder and faster when they feel their efforts are being acknowledged. Practices like appreciating or rewarding your employees from time to time for their good work gives them the sense that their work is valued and this ultimately leads to the desire of giving the best every time they do something.
3.Preparing your people to grow with the company
Employee engagement also means taking care of employees' training and development needs – this doesn't only mean the first training that they need to start with your business but includes the support that they need to continuously improve their skills, take on additional roles and move to managerial positions as the team grows. Managing and growing internal talent can prove a great asset to your company as you scale fast.
Finding out the drivers engagement in your company
Before moving to solutions, diagnosing the needs is key. The subject of employee engagement in your workplace is to understand what motivates your people, what drives their actions and how this translates into productivity, performance and loyalty in your startup.
As you are soon to find out when you ask, engagement drivers differ from industry to industry, from one working environment to another and different companies of different sizes have different needs. At Metavallon portfolio, for example and according to our founders which we surveyed, engagement drivers are centered around opportunities in learning and developing professionally, trusting in the company and team leaders and relationships with co-workers.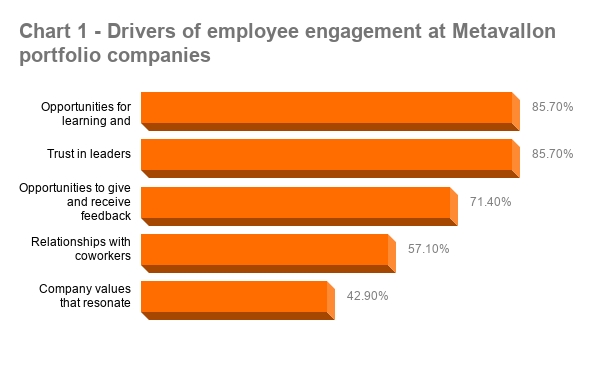 Despite some common assumptions, there are always some distinctive aspects that make every workplace unique. As a founder, you need to efficiently figure out what those are using various tools.
One option to do this is to set-up an online system through which you start gathering feedback and information from your team, over a given period of time. This system should provide you with a tracking and monitoring feature, to make sure your data is accurate and can be translated into clear action steps. Starting with a company wide employee engagement survey could be a good idea – here you can find 30 good employee engagement questions to sharpen your survey.
A second option is to conduct one-on-one meetings, with all of your team members, over a given period of time, in repeated cycles. The end goal is to find out what motivates these people to show up for work, perform, engage and aspire to a future endeavor. What makes them happy at work? Once you have that information, you need to act and build on it, together with your team.
Tips to engage your employees when you're running a seed stage startup
If you are convinced of the merit of employee engagement and understand the first steps, you also need to translate them to action. We divide the work to be done in 3 levels in order to show you tactics that you can execute immediately, things that require some planning but can be executed mid term and additional strategies that require a long term vision and design and can be built gradually.
Low hanging fruit – things you can start doing this month.
Provide a Lunch/Social budget
These days, more small businesses or startups offer lunch or social budgets to their employees. For many employees, these little perks like free lunch really make a big difference in how they feel about their company, give them a chance to socialize with co-workers and often provide that extra mile to boost employee's satisfaction.
Celebrate special occasions and other milestones
Celebrating special occasions like birthdays, work anniversaries or others is very important for keeping your employees in a good mood. Due to the busy schedule, these occasions often go overlooked. When you remember and celebrate your employees' special occasions, it makes people appreciated and happy.
Give the Option of Flexible working
Post covid constitutes a new era of work where working remotely is a new normality. It looks like its going to be a mixture – for instance Google announced its new hybrid flexible work week policy "3 days in 2 days out" and Blueground the "Blueground Nomads", a mobility scheme "work from anywhere''. Don't forget that this needs careful planning to properly design a scheme that works for the company, the team and the employee and overcome challenges such as effective collaboration.
How does this work in practice for Metavallon's portfolio companies? We asked our 21 active startups, ranging from 3 to 52 employees, what percentage of their employees work remotely at the moment and what the most important challenges they face in this new model.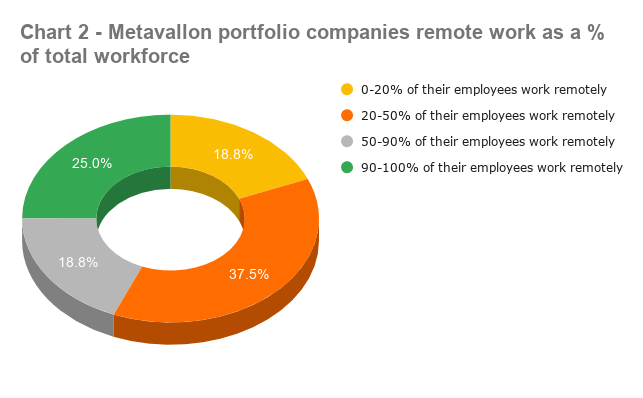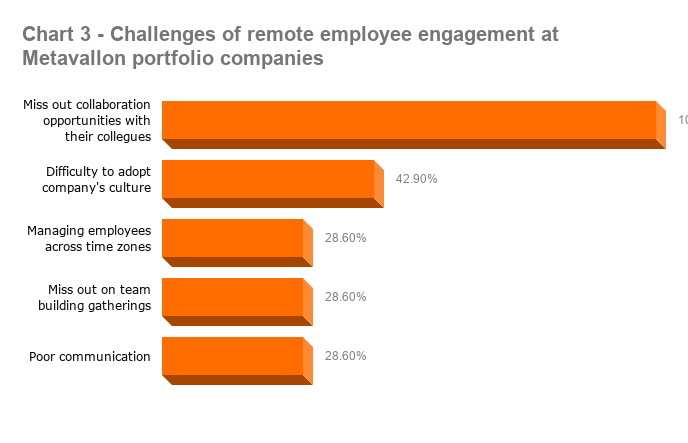 It seems that 1 in 4 Metavallon startups keep a totally remote team and for more than 43% of our startups 1 in 2 of their employees work remotely. At the same time, the main challenge they should overcome under this new era, seems to be the lack of collaboration opportunities between remote employees and their colleagues.
2. Mid hanging fruits – things you can start doing this quarter
Start Orientation Training for the New Recruits
The COVID-19 pandemic has forced employers to remote hiring and create work circumstances that are quite different from what many of us are used to. Hence, orientation training is important to help remote employees understand the vision, mission, objectives and strategies of the company and ensure a smooth process of integration in the startup. Make them part of your routine and involve as many people as possible in the process!
Recognize and Reward Accomplishment of Goals
Your startup may not have the resources yet to give pay raises every time an employee does something great, but you can acknowledge it and express how much you appreciate the hard work. Also, look for creative ways to reward your employees. You may share success with the whole team, buy them some small gifts, reward employees with a day off or ask your staff to nominate and vote for other employees who they feel need the recognition. These can be meaningful and budget-friendly employee engagement strategies.
Invest in Team Building and Fitness Activities
You probably have a small office space that you rented for you and your team. Well, this should not stop you from incorporating team building and fitness activities into your startup. Team building events improve team member communication and promote positive relationships, while health and fitness are also vital components of employee engagement. When your workers are healthy, they are happier, more productive, and more actively involved in your business.
3. High hanging fruits – things you can start doing in the next 6+ months
Take your employees Opinions and create structured feedback
Employees don't just work for your startup, they help you execute your dreams and the shared vision of the company, with their own aspirations linked to it. Therefore, it's very important to take their opinions regarding their work or other issues in the workplace. The best way to do this is by conducting one-on-one meetings, measuring your employees' satisfaction (through NPS score) or conducting performance review. The feedback that you receive from your employee will give you a much broader perspective on any issue or situation. To give you an idea, Skroutz, in a 500+ people company, administers an Employee Engagement Survey to its employees, while twice a year, they rate employees and then discuss performance feedback face-to-face. Read more about Skroutz employee engagement strategy here. (Chapter 4)
Under this framework, we explored what's the percentage of Metavallons portfolio employees who had an annual performance review and if they measure their employees' satisfaction.
It seems that half of our startups execute an annual performance review for half of their people, a great step in the right direction. Regarding the tracking of their employees' satisfaction (NPS score), only 12.5% of our founders measure this factor at the moment – this is something that can work in larger companies but it is worth setting the stage from the start.
Provide educational and development opportunities
Offering employees external or internal training and development opportunities improves employee satisfaction, which in turn is likely to increase loyalty and decrease costly turnover. Especially due to the Covid-19, employees around the world have shown an unprecedented level of interest in learning on the job during this time.
Assign roles based on passion and interest
Get your employee motivated in his/her work, assign them tasks they are interested in and capable of. Not only will this motivate the person to do their best work, you'll also achieve the maximum results of that person's hard work. This is an ongoing, long term process, which involves consistent planning and monitoring your employees, discovering their skills and passion and mapping them against the company's needs. Although it requires time, dedication and planning, this is certain to be paying off long term!
Finally, here you can take a look at the major employee engagement tactics followed by our portfolio companies.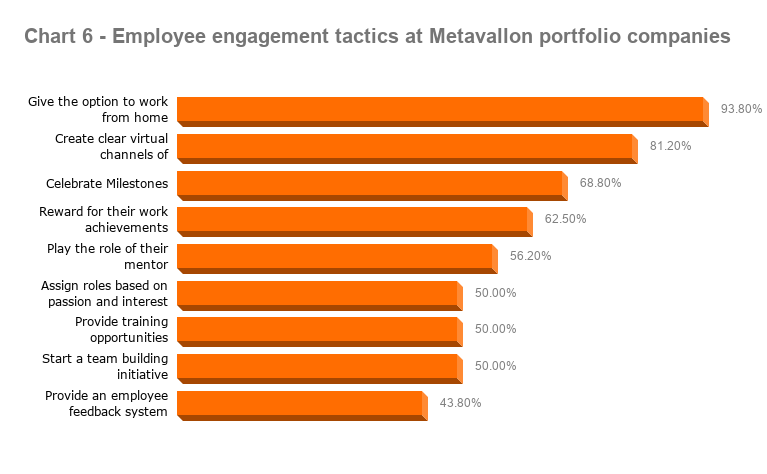 Conclusion
There could be a lot of things you can do to better engage your employees and those will evolve as your company grows. Beginning with the implementation of basic steps like the above can be a great start, both fun and profitable for you as a founder and your employees alike!