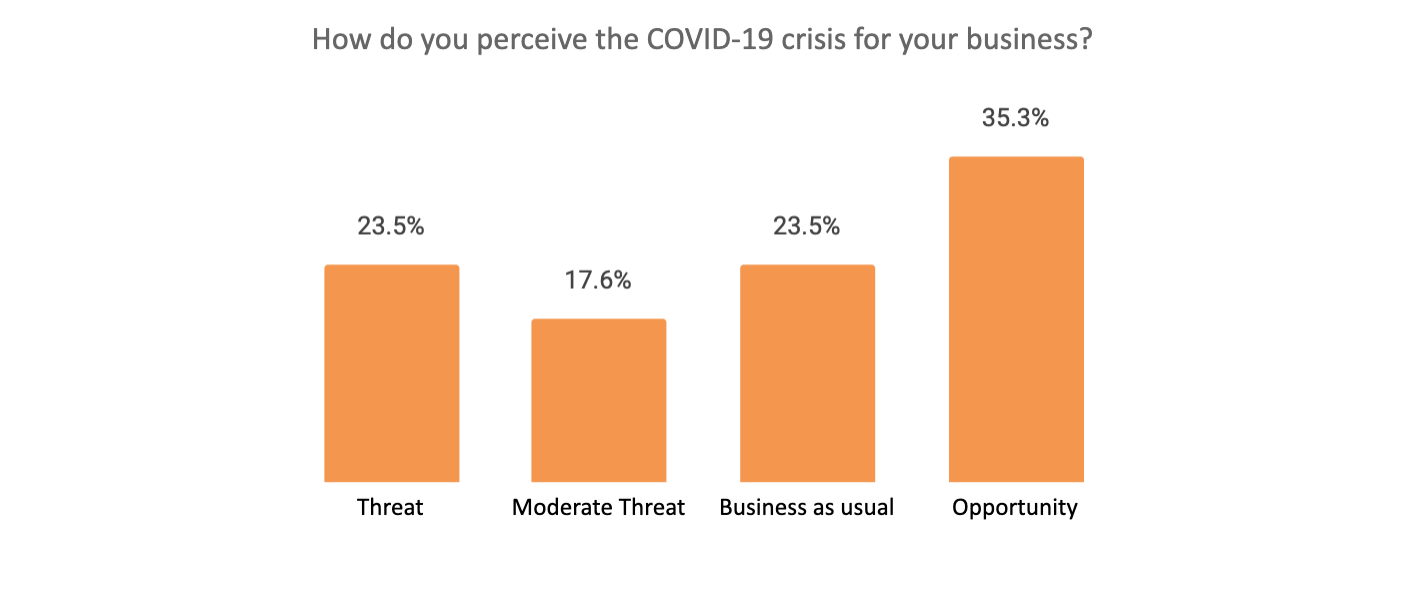 Posted by Katerina Kanteraki
On April 30, 2020
Our portfolio company sentiment survey provides a high level understanding of how our Pre-Seed and Seed stage founders have been impacted by and are reacting to the COVID-19 crisis. We present our major findings after surveying the startups in our portfolio here.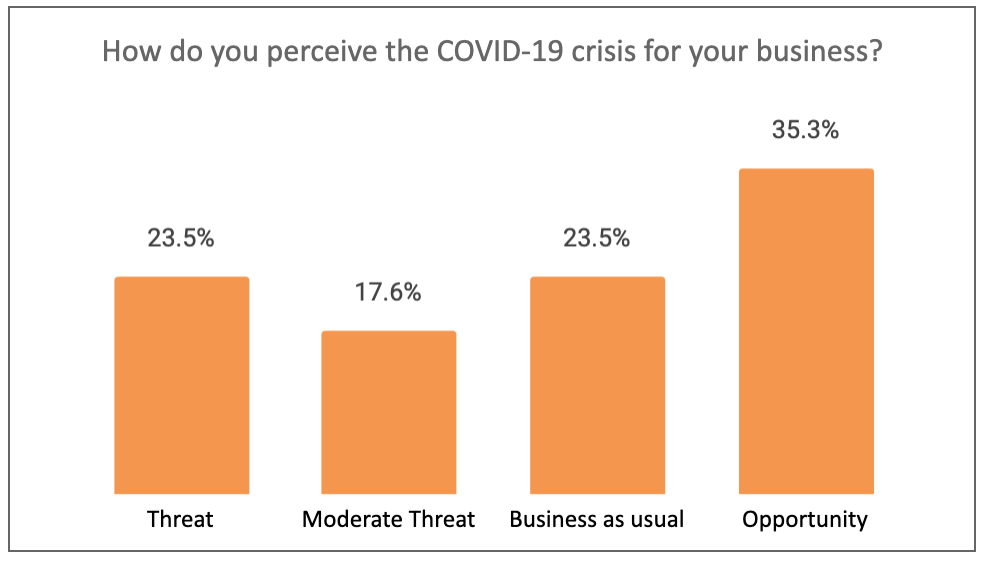 How do you perceive the COVID-19 crisis for your business?
"Never waste a good crisis" seems to be the overall sentiment, as Metavallon's startup founders are considering the crisis an opportunity or business as usual to a 60% level, while less than 1 in 4 considers it a major threat. This probably reflects the early-stage of the startups characterized by the ability to strike product-market fit and implement changes faster and with low burn. The portfolio's focus on B2B tech solutions, which are currently on the rise, as well as the very low exposure of the portfolio to verticals such as tourism and travel and horizontal business models such as B2C products which have been heavily challenged are also contributing to the perception of opportunity.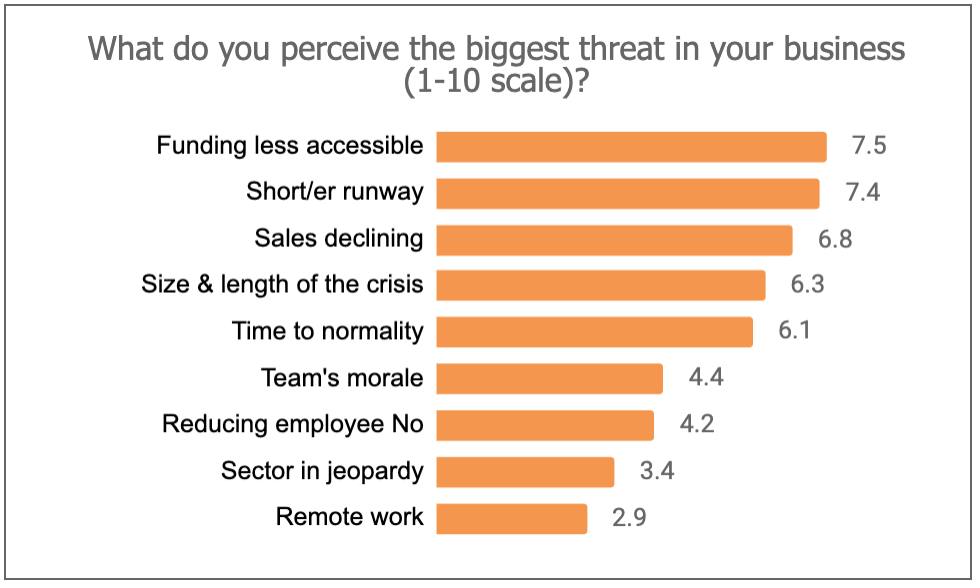 What do you perceive the biggest threat in your business (1-10 scale)?
Of the threats, the majority of them, as expected, relate to fundraising and cash preservation short-to- mid-term and the mid-to-long-term effect of the economic crisis. Remote work hardly affects those businesses, which by nature are used to remoteness and the use of technology for collaboration and product delivery.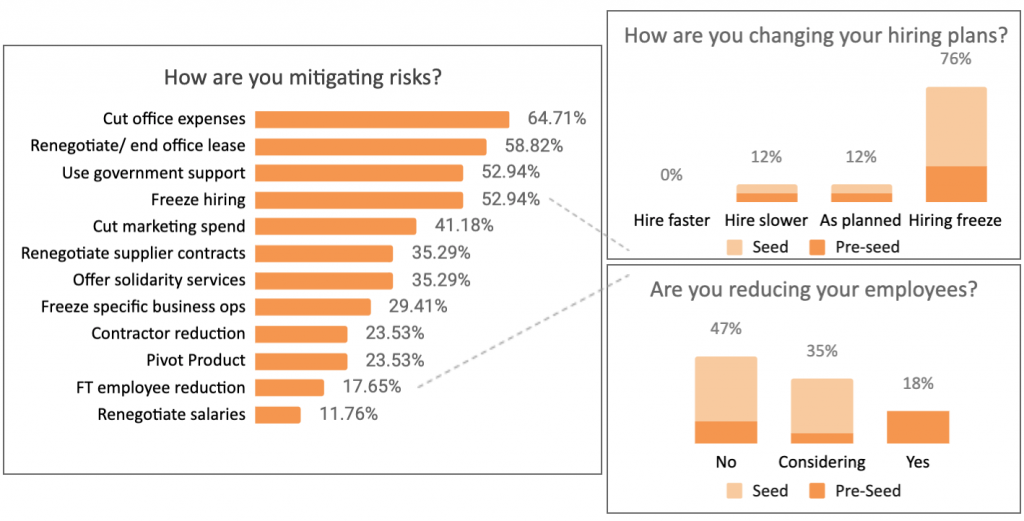 How are you mitigating risks?
Regarding actions founders are taking to mitigate risks, those are mainly centered around Selling, General and Administrative Expenses cost cutting, use of government support and hiring freeze, without however the intention of staff reductions. Founders are cutting their most elastic costs first, to prolong runway, while at the same time, non-dilutive forms of liquidity such as leveraging government support are utilized. More than 80% are keeping their highly specialized, indispensable talent for the time being, in order to face the next day and come out stronger, although the majority has a "hold" stance on new hires.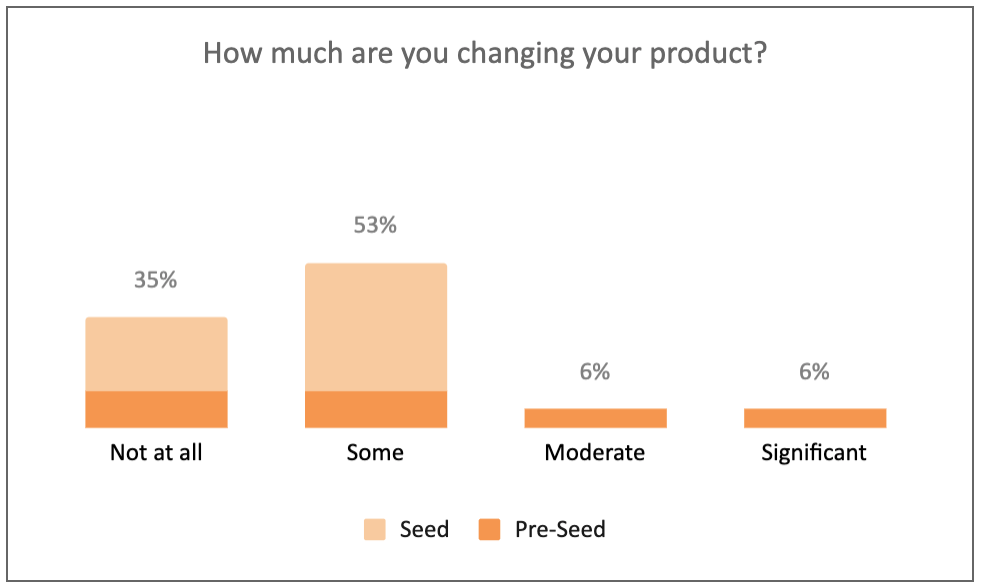 How much are you changing your product?
65% of the founders are somewhat changing their product, and only 1/3 do not see any changes, which shows agility and adaptability, again key characteristics of startups. Pivots and moderate to significant changes are primarily seen in Pre-Seed startups. Less than 25% of all startups are attempting full product pivots though as the coronavirus crisis is perceived as short-to-mid-term turbulence, unless of course a lasting market opportunity has been identified. Several startups are taking into account changes/ additions to products to offer COVID-19 solidarity services such as free access to COVID-19 specialized research as illustrated in our recent blog post about Metavallon VC HealthTech Startups vs. COVID-19.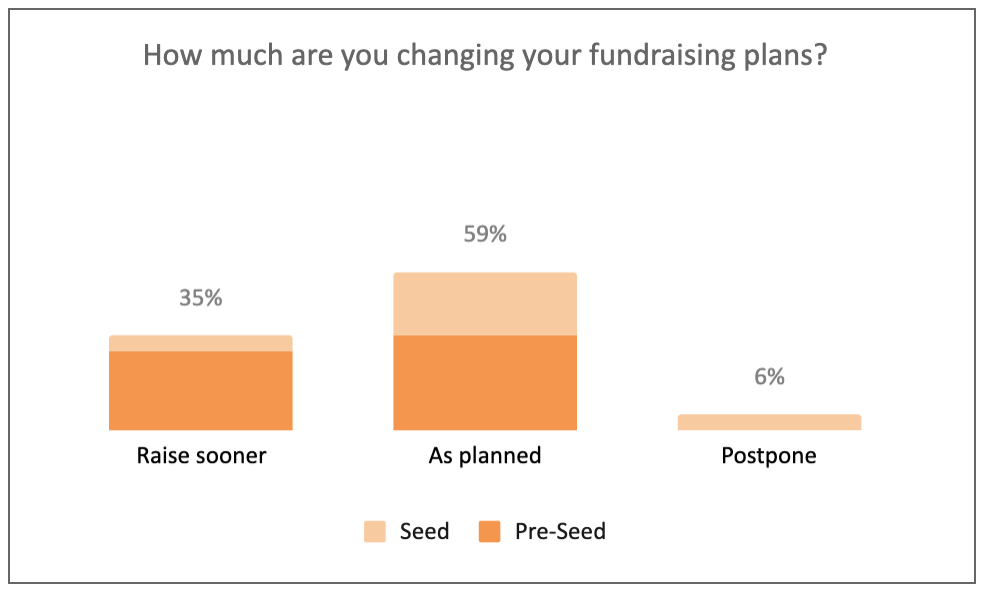 How much are you changing your fundraising plans?
There is a mixed view of when to fundraise with the majority of pre-seed companies aiming to raise sooner, the rest of the companies are keeping plans unchanged and some hitting the market later. At current times, "Cash is queen" or "king" after all, and with fundraising cycles potentially lasting longer, as well as revenues and sales cycles increasing, remaining well capitalized could determine business continuation.