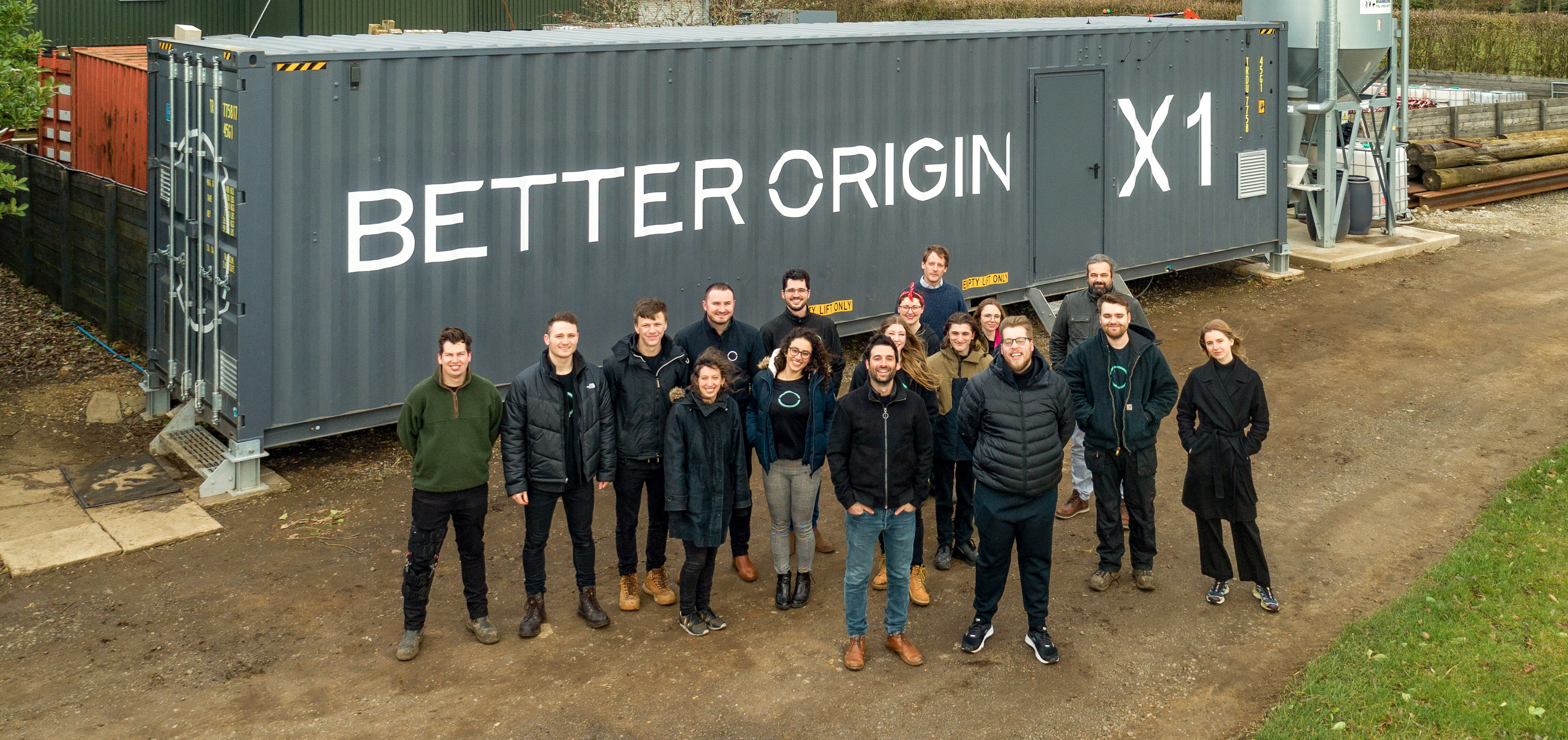 Posted by Marilena Kakkou
On April 7, 2022
Better Origin takes local food waste and converts it into high-quality, sustainable animal feed on AI-powered insect mini-farms, recreating the cycles seen in the natural food chain
On-site production of animal feed cuts food waste, reduces feed consumption costs and lowers emissions while boosting productivity for the farmer and food security for all
The $16 million funding round was led by Balderton Capital and will be used to help the company grow the team and scale internationally
Better Origin – the agritech startup using AI-powered insect mini-farms to fix the broken food chain – has raised $16 million in a Series A funding round led by Balderton Capital. Existing investors Fly Ventures and Metavallon VC also participated.
The UK-based company has built a solution to one of the biggest problems facing the world today: how to feed a growing population in a secure and sustainable manner, by turning the food supply chain from global to local. They have created decentralised AI-powered insect mini-farms, which take local food waste from supermarkets and convert it into high-quality, sustainable animal feed. In doing this, Better Origin has removed the need to ship animal feed around the world – as the vast majority is today – tackling both the lack of sustainability and the lack of security inherent in global food supply chains.
Its container insect farms recreate the conditions found in nature where food is eaten by insects and upcycled into essential nutrients for other animals to grow. Using AI and automation to create the optimal environment for this cycle to flourish, Better Origin produces black soldier fly larvae which can be fed to the farm's animals.
Tackling the global problem of food waste and reconnecting the broken food chain
According to the UN, more than a third of global greenhouse gas emissions come from how we produce, process and package food. Every year, a third of this food goes to waste and in the UK alone we waste 4.5 million tonnes. To put this into perspective, if food waste were a country, it would be the world's third-largest emitter of greenhouse gasses.
Better Origin's plug and play mini-farms tackle this problem from within the food chain itself. By producing feed on site, the Better Origin container farm – called the X1 – can produce the same amount of feed currently produced on 1500sqm of soy plantations, in just 1sqm. By using food waste as a raw material, Better Origin is reducing food waste, cutting farmers' feed costs and offering a superior product for animals, letting them forage for live food rather than being fed pellets. It also lowers the emissions of individual farms and boosts productivity.
Better Origin's managed and flexible service can also help farmers to break into new areas of business in an industry where startup costs and barriers to entry are traditionally high and innovation is infrequent. Thus representing a win-win for the environment, for farmers, for the animals, and for consumers.
Although this model can be applied in any food anywhere in the world, the startup has decided to focus first on the poultry sector and in December, Better Origin signed a deal to supply 10 insect mini-farms to feed chickens at Morrisons UK free-range egg farms. The deal is set to save 5,737 tonnes of CO2-eq emissions per year – an equivalent of taking 1,240 cars off the road – while also mitigating 1,500 tonnes of food waste. More partnerships will be announced in due course.
A hyperlocal approach to a global problem
Better Origin was founded by CEO Fotis Fotiadis and CSO Miha Pipan. Each brings deep knowledge and expertise in this sector from their time at Cambridge University studying engineering and biological sciences respectively. They built the Better Origin X1 mini-farms to be hyperlocal, automated, and easily installed on local farms. In each container, food waste from local sources is converted to feed local animals. Cameras, computer vision and sensors monitor the conditions within each mini-farm to make sure they are optimal for production.
In this way, Better Origin X1s can be installed on any farm in the world. Their plug-and-play nature allows them to form networks, making the system and its benefits instantly scalable.
"The food chain is fundamentally broken and it's putting the future of our food security at risk," said CSO and founder Miha Pipan. "We've built a solution that aims to finally fix these flaws from the inside out. Insect larvae are nature's mechanism to convert waste back into essential nutrients in the food chain. They act as the missing link between waste and food. We reduce waste and increase food production by bringing back this link. We believe our solution is the future of food production and the latest round of funding takes us a step closer to this future."
"Beyond enabling us to scale up operations and expand our team, the deep understanding and expertise that Balderton brings makes it the perfect Series A partner," said CEO Fotis Fotiadis. "It was of vital importance when raising our Series A, as it was when we raised our Seed, to find partners that truly believe in our mission and ambition. We're thrilled that Balderton, alongside Fly Ventures and Metavallon VC, are with us as we take this next stage for our company, for our partners and for our planet."
"Fotis, Miha and the Better Origin team are working to fundamentally change our broken food chain, for the benefit of everyone," said Suranga Chandratillake, General Partner at Balderton Capital. "Climate change, the pandemic, political tensions and our growing population have demonstrated time and again how fragile our current systems are. They've also shown how farming currently exacerbates the challenges we face and solutions so far are not leading to the wholesale change we need. Better Origin presents a new approach and we believe it can have a transformational effect on food and farming systems."
The Team
Another unique feature of Better Origin is the diversity of their team. It is a group of individuals ranging from Phds in Genetics all the way to Field Engineers and Drivers. The common theme in all of them is the urgency to leave an impact in the world combined with the privilege of working in one of the hardest engineering challenges in agritech. There are not many places in the startup scene where so many disciplines combine in order to deliver a product.
Sustainability at every stage
In addition to tackling the scourge of food waste, Better Origin's decentralised approach helps revive local food supply chains. Transport of food accounts for 6% of the industry's emissions but by empowering farmers and consumers to grow and source their food locally, it is possible to cut emissions while increasing food security for the future. All while reducing animal farming's reliance on soy – a major cause of deforestation.
The funding will be used to expand the Better Origin team, and the company is looking to recruit in many areas such as Engineering, Biology, Marketing and Operations. The company is looking for brilliant people who all share a passion for making the world a better place. In addition, the funding will be used to further develop the product and technology and help the company scale. The company currently specialises in poultry, plans to expand into new livestock areas – and eventually human food – will be announced in due course.
This latest funding rounding takes the total amount raised since launch to $19 million.